Web and Mobile Sign and Asset Management
Meet the New MUTCD Regulations with Multiple Management and Assessment Capabilities
System Details

Sign and Asset Tracking using GPS and Barcode
Meet MUTCD Retroreflectivity Requirements with IbisTRAX
The IbisTRAX system will allow municipalities and private agencies to manage assets and traffic signs in order to meet the requirements of the MUTCD Retroreflectivity National Standards. The IbisTRAX system provides the following tracking and management functionality:
Sign compliance and asset material tracking data management with barcode and RFID support.
Vendor management with relation to signs and assets to speed up the ordering and quote request process.
Complete inspection management tool with detailed result reporting.
Employee management with inspection and work order assignment capabilities.
Keep track of work orders by assigning employees to do the work and by adding detailed notes for each sign and asset.
Create purchase orders for signs and assets that can be sent to vendors and managed within the system using your existing inventory.
Request quotes directly from your IbisSIGNS representative with the touch of a button.
Manage sign issues directly from the public using your own notification form hosted free and integrated directly into IbisTRAX.
Upload and store drawing and data files associated with signs, assets, work orders, and purchase orders for quick and easy access.
Import and Export data in Microsoft Excel format for easy data manipulation.
Save reports and detailed views of data in Adobe Acrobat PDF format for easy printing and sharing.
Multilevel account management for staff with no limit on the number of accounts.
Detailed email, phone, and system integrated support offered directly from the system developers and sales staff.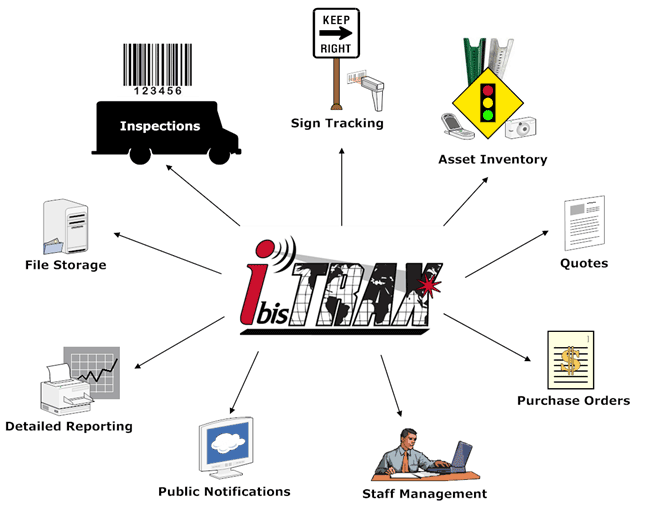 The IbisTRAX system provides fully integrated support for multiple inventory management and inspection gathering techniques to ensure that organizational procedures are met along with the new MUTCD Retroreflectivity requirements. Some of the system supported features are as follows:
Mobile GPS coordinate tracking, barcode scanning, and sign detail entry through the use of custom IbisTRAX software designed for any Android phone or PDA device. Blackberry and Windows Mobile devices will also soon be supported.
Sign and asset inventory import and export options through the use of dynamic Microsoft Excel templates or direct import from retroreflectometers and other GPS hardware devices. Customization of import options to suite you particular device is provided as part of the initial setup. During the initial setup checklist process, an IbisTRAX technician will work with you to import data from your existing system and will help you setup any data entry procedures if you are currently using hard copies.
When GPS is utilized, all signs that have been added to the system will be dynamically shown via an interactive Google maps interface integrated directly in the system and viewable on any web enabled mobile device. Quickly find any sign and provide directions for staff with the click of a mouse.
IbisTRAX is designed to meet MUTCD sign tracking management system requirements through the use of highly durable 10 year barcodes that are applied to each sign and associated with sign details, road and cardinal location information, and GPS coordinates. Finding out all the details of a particular sign is as easy as scanning the barcode. When you buy signs directly through IbisSIGNS you will also benefit from the free barcodes that will be attached to all of our signs starting in Mid June.
With IbisTRAX offered as a fully web based application, users will not be required to install any special software, purchase additional seats, setup any software and database servers, or hire any specialized IT professionals. IbisTRAX allows users to create unlimited staff accounts, which means multiple account holders can work in the system at one time ensuring maximum efficiency. When you go with IbisTRAX as your inventory and inspection management system you are provided with safe and secure data management and professional technical support directly from the system developers.
The goal of the IbisTRAX system is to combine multiple inventory, work order, purchase order, and inspection management techniques in to one centralized source that can be accessed by all of your staff depending on the access level that you grant them. Efficient management of inventory, employees, and tasks is the best way to cut the bottom line on your budget while still meeting new guidelines and IbisTRAX is your way to do it.